austin-mermaid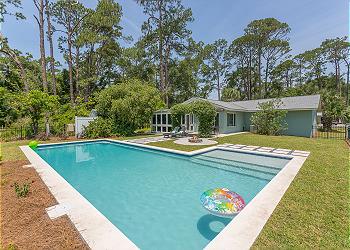 AUSTIN MERMAID
https://www.jekyllrealty.com/vacation-rentals/properties/austin-mermaid/
AUSTIN MERMAID | Jekyll Island Vacation Rental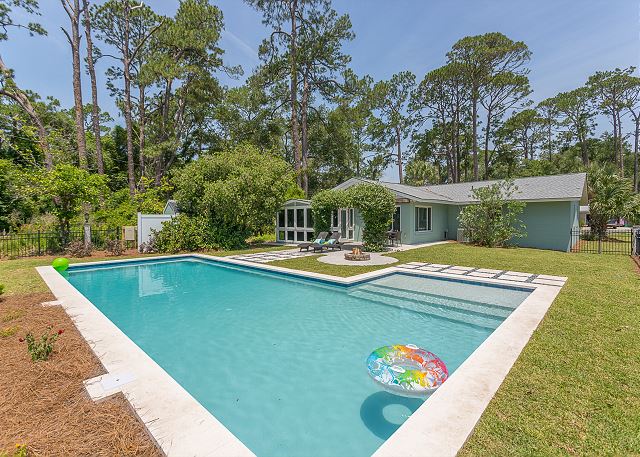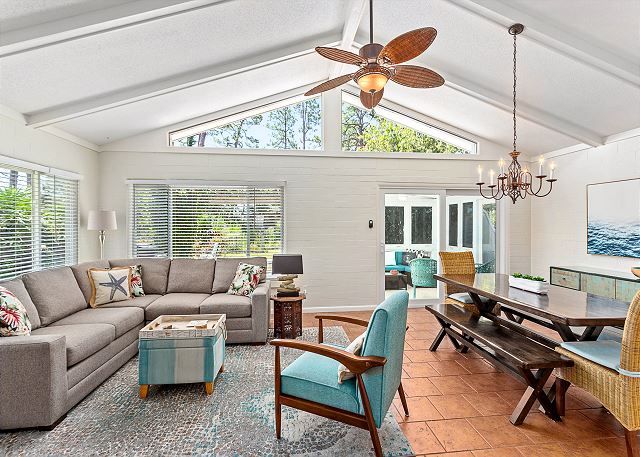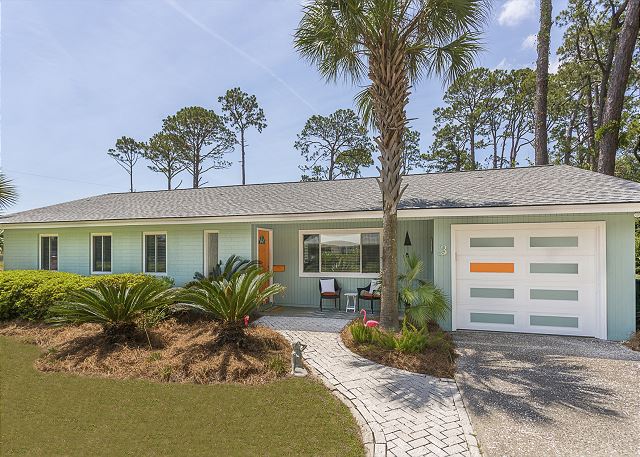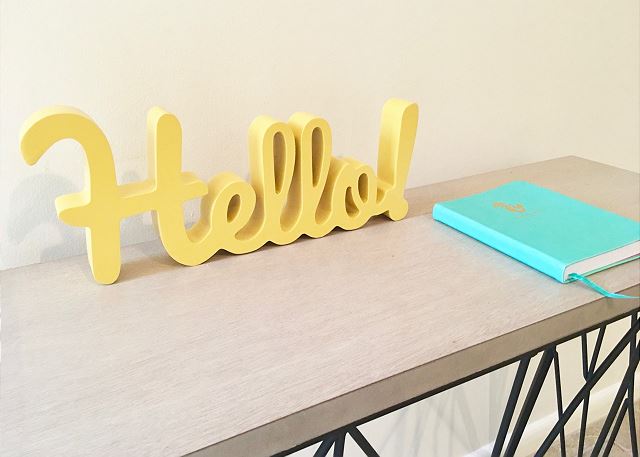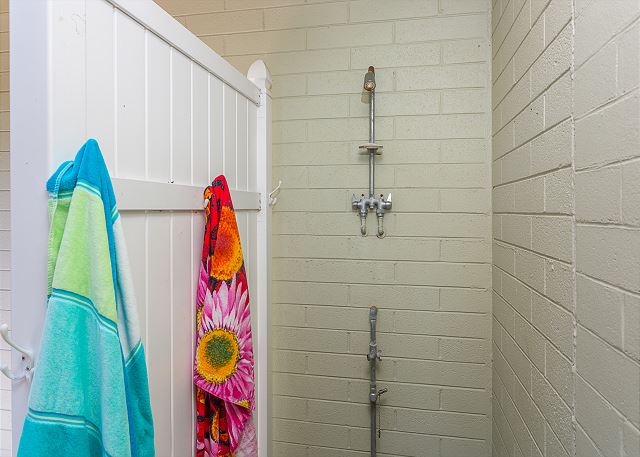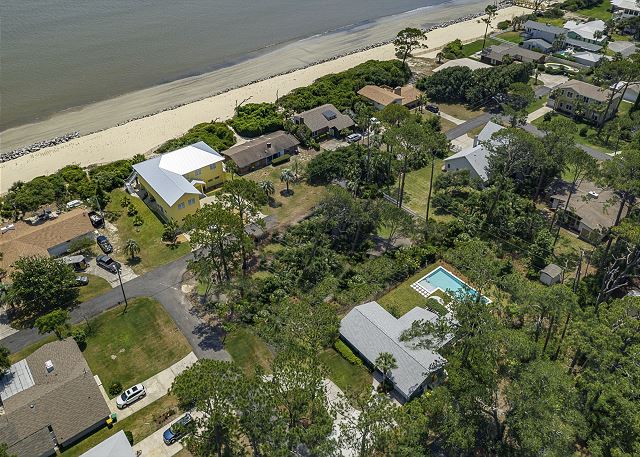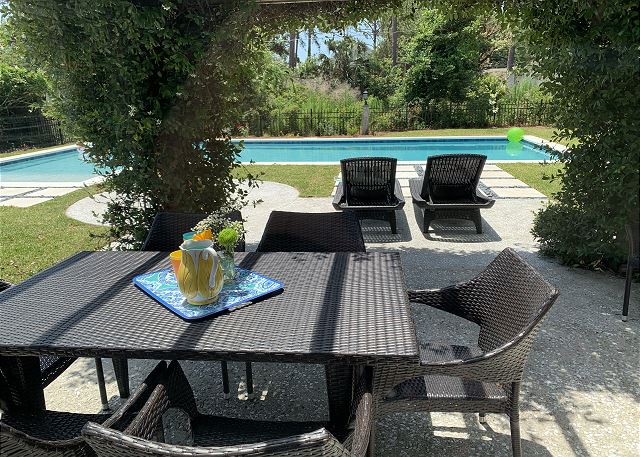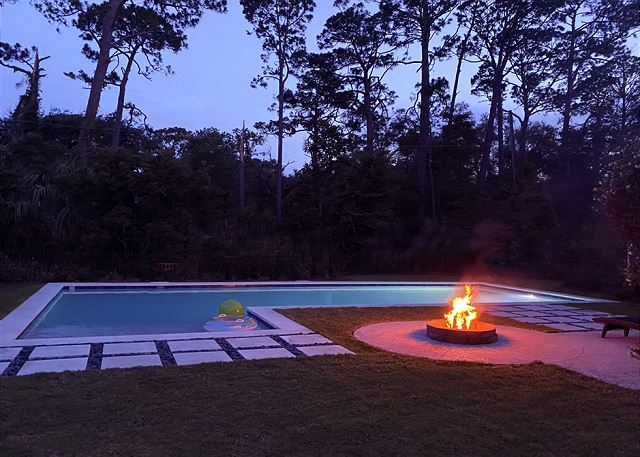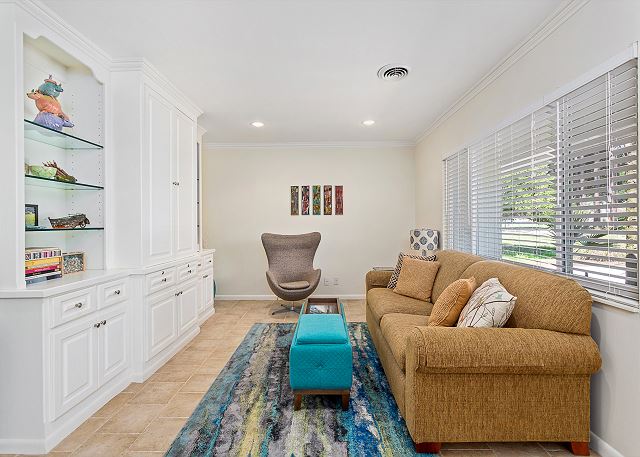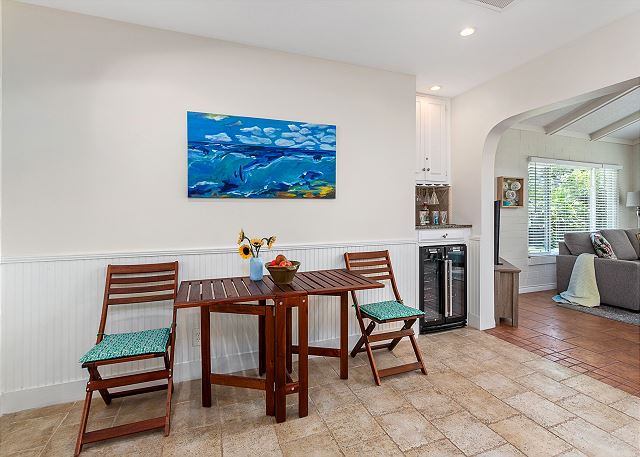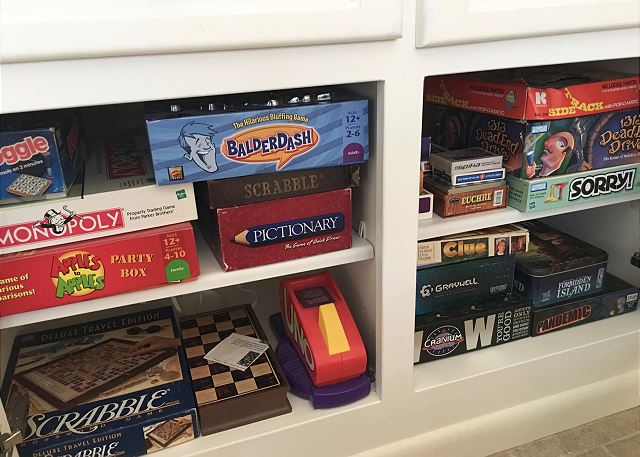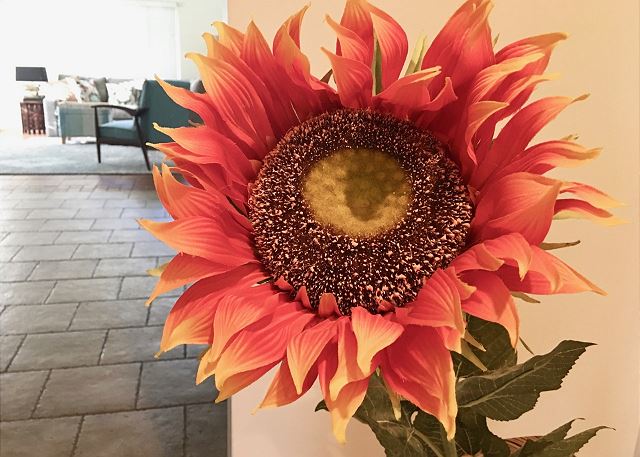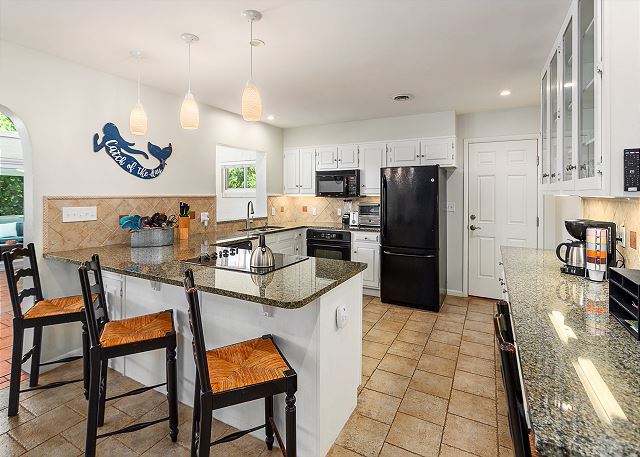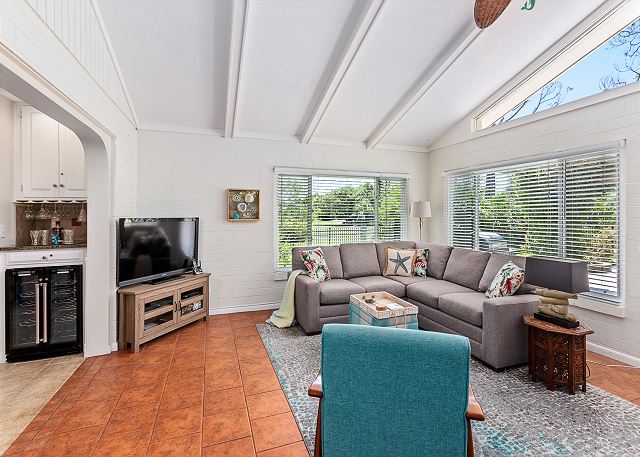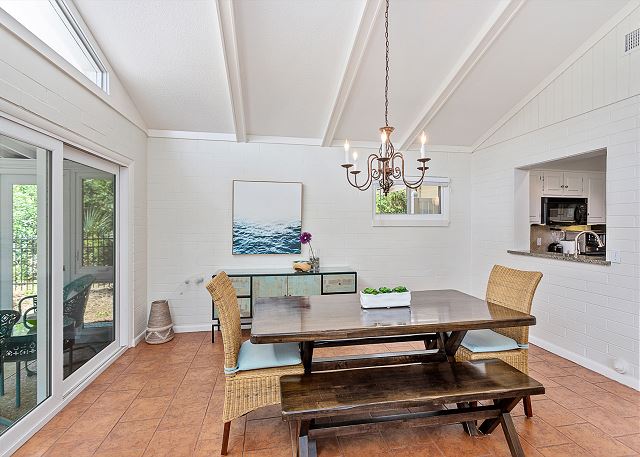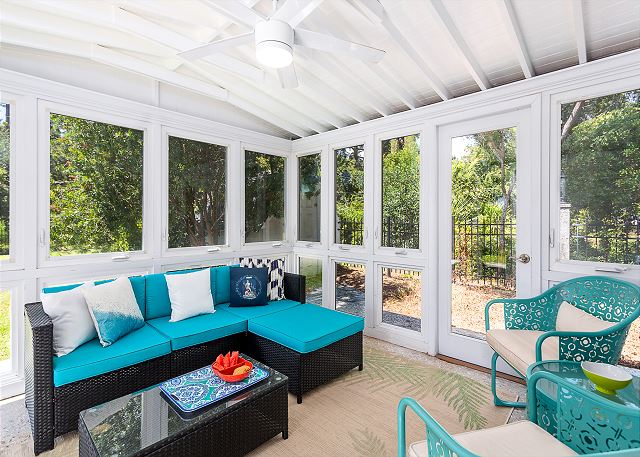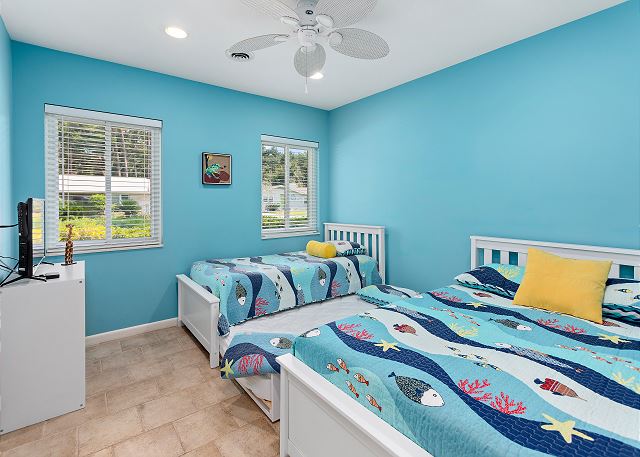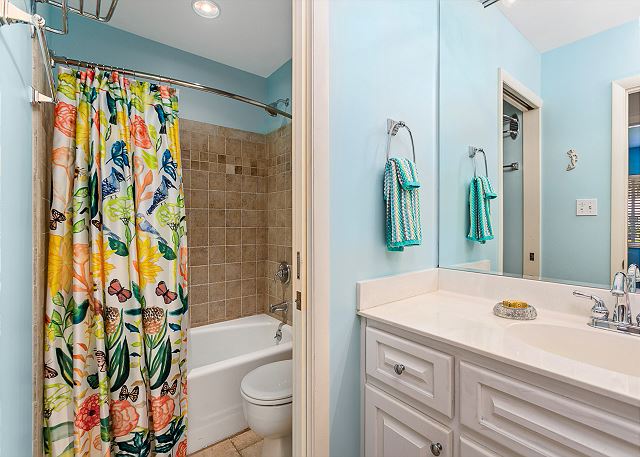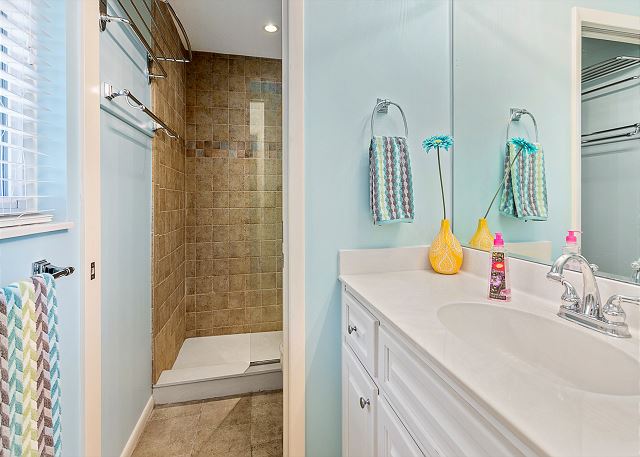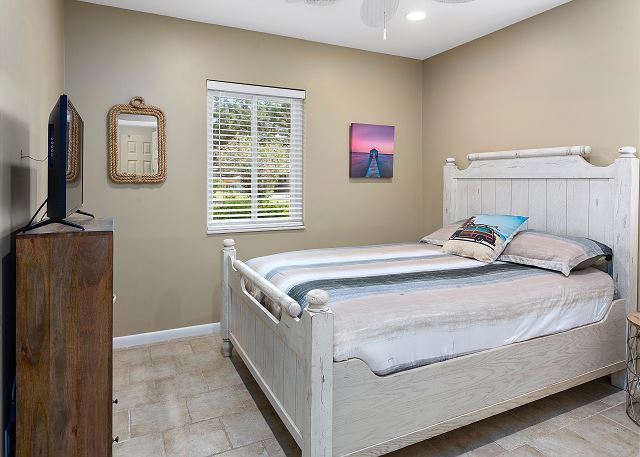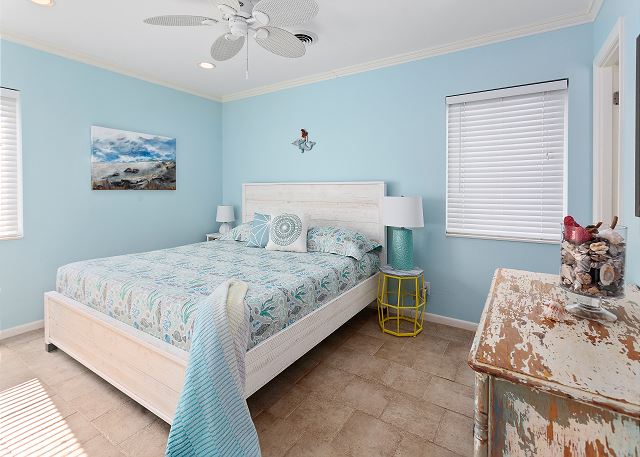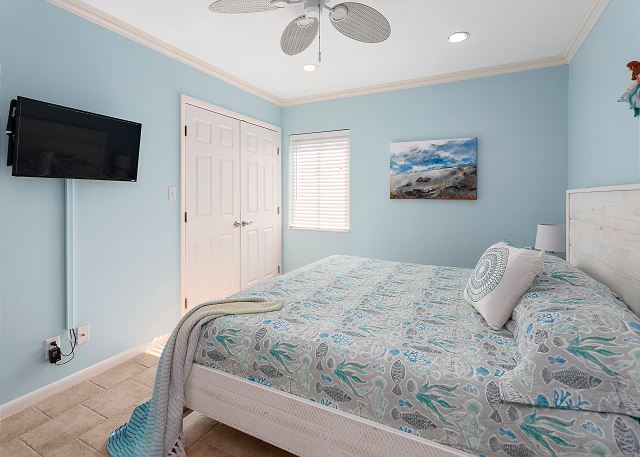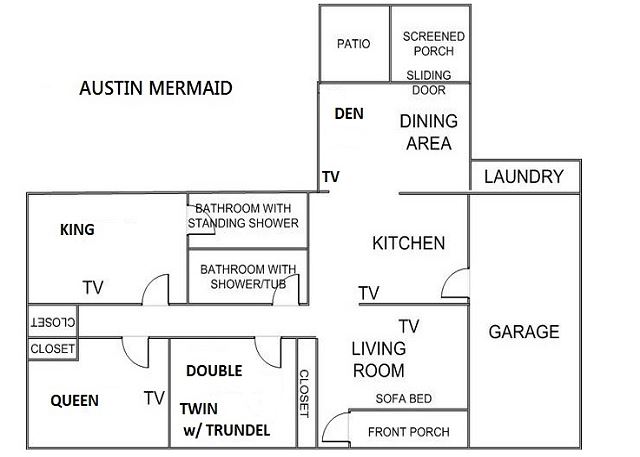 Steps from the beach!

POOL! 45 FOOT BY 16 FOOT SALT WATER POOL WITH SPLASH PAD/SUN DECK ENTRY!

Austin Mermaid is a stylishly decorated, relaxing, home-away-from-home, where family, friends and couples can unwind and have fun!

Located on a quiet beachside street, this immaculate, completely renovated and equipped 3 bedroom, 2 bathroom home also boasts a living room, family room, dining area, screened in sunroom and a large dine-in kitchen. Its huge, fenced, back yard with gorgeous pool makes it a great space where everyone can swim play, make S'mores in the fire pit, or adults can enjoy a quiet evening drink on the patio. One of the very best home rentals on historic Jekyll Island!

Features include:

3rd house from beach. Driftwood Beach a short walk down the beach

WIDE SCREEN TV: 6 TVs w/deluxe channel package, Netflix, Amazon, sports, etc. 2 DVD players and selection of movies

MW, DW, W/D, Addt'l convection oven/pizza maker, Chef-equipped

WiFi/DSL; Unlimited Domestic Long Distance Calling

*GAS GRILL*

BEDS: 1 King, 1 Queen, 1 Double, 2 Single (1 trundle), Sofa Bed. Accommodates 8-10.

Cheery décor with vaulted ceiling and plenty of light in the living spaces, but cool and muted light in the bedrooms for sleeping.

Backyard, pool and beach toys, boogie boards, golf umbrella, beach chairs, coolers, board games, and more. Child dining seat, high chair and Pack 'n play.

NO PETS, NO SMOKING.

Bed Linens and Towels are not provided at this unit. Renters can bring them from home or use our linen rental service.

Nearest Beach Boardwalk Crossover: Albright Lane. Nearest beach access Gould Lane.

***Beach Access Not Always Available At High Tide***

Jekyll Realty Commitment to Cleanliness Protocols

We take standards for hygiene and cleanliness very seriously and are taking steps to ensure the safety of our guests and employees alike. Jekyll Realty has been closely monitoring recent statements from the Centers for Disease Control and Prevention (CDC) and are working to ensure that we meet the latest recommendations for hygiene and cleaning.
Thank you for entering your review. The review will become available to the system shortly.
25
25
Overall Rating:
4.88
4.88
Great island retreat
Rating:
1
5
5
lovely home, easy short walk to the beach (at low tide) and the salt water pool was the best!
A nice place to stay
Rating:
1
4
5
Our vacation experience at Austin Mermaid is rated an A by us
Wonderful Five Weeks at Austin Mermaid
Rating:
1
5
5
Austin Mermaid is an exceptional property. It is beautifully decorated and the beds are very comfortable. Even though we rented in NOV we enjoyed the pool - it's a great addition to the property. We highly recommend this property.
Fantastic Rental
Rating:
1
5
5
We had a fantastic stay! This is a top quality rental property. Everything in the house is thoughtfully done and it is a bright cheerful space. Kitchen is very well appointed for cooking in. There are so many great little areas to sit and hang out. The pool is just amazing, and has a fire pit too. Nab this rental if you can find an opening in the calendar!
Great Get Away
Rating:
1
5
5
Well maintained property. It felt like home.
Perfect place to relax
Rating:
1
5
5
Austin Mermaid was the perfect base to explore Jekyll Island and spend a relaxing time. The house is tastefully furnished with everything you need for a family stay. Due to Covid we brought all our food for the week and the kitchen was stocked with all the essentials to get us through. I was delighted to find the king bed had a firm foam mattress which was a great improvement over the many saggy spring mattresses I have encountered in the past. The star attraction is the wonderful large pool which was sparkling clean and inviting when we arrived. The owners have made a real home from home. No beach access at the house but a short distance to Great Dunes.
Nice house !!
Rating:
1
5
5
We were looking for 1 level, with a pool, beachside, with a master en-suite - this checked all the boxes and then some ! The garage, enclosed patio and SALT WATER pool were nice bonuses. The house was extremely well-appointed, nice layout, very comfortable and had everything you would need, including pool toys. I would highly recommend and will definitely stay here again
Fabulous property!
Rating:
1
5
5
I can't say enough good things about Austin Mermaid!
We had a wonderful week here. The house is so cute and comfortable and was extremely clean. The kitchen is stocked with pretty much everything you could possibly need. We rented a Red Bug for the week so having a garage where we could keep it charging was a bonus. And the pool!! Absolutely beautiful. We could hear the ocean at night while enjoying a fire in the fire pit.The house is an easy 2-5 minute walk from several beach crossovers. This north part of the island doesn't have much beach at high tide and they are doing erosion control, so we drove or biked just minutes down the road to other Jekyll beaches for long beach days. There's also lots of beach and pool toys, chairs, etc in the garage to use. Jekyll Realty was wonderful to work with and was extremely responsive when I called a couple of times asking where to find something. We loved it so much, we've already booked a week for next year!
Jekyll, our happy place
Rating:
1
5
5
AUSTIN MERMAID was nicely furnished and comfortable. The location is good except for no beach access. The pool was wonderful. We had a great week.
Home away from Home
Rating:
1
5
5
I wish I could give it more than 5 stars!! The house is absolutely lovely! Very clean, relaxing and open feel to the entire property. The pool is amazing...we spent a lot of time swimming! The backyard and pool area have plenty of privacy from neighboring homes, so you can really relax and enjoy. Beach access is a very short walk. You can hear the waves crashing while relaxing in the private backyard or grilling on the gas grill. The kitchen is stocked with every dish, pan, appliance or utensil you need. The rooms are all spacious and beds are very comfortable. The garage is full of items to use in the pool or at the beach. The owners have obviously put a lot of love and attention to detail in this home. We really enjoyed our stay. We normally stay in a hotel, so we weren't sure what to expect renting a house. We truly felt at home! Jekyll Realty was fabulous to work with. The communication with them is excellent and they really care that you have a wonderful stay. We can not wait to return and stay at Austin Mermaid again!
Peaceful and Relaxing
Rating:
1
5
5
Austin Mermaid was great! This was our family's first time to Jekyll and we could not have asked for a better experience. This house had everything we needed and then some. I would highly recommend this place and would be glad to stay again. The pool was magnificent, only thing I would recommend being cautious on the tiles at the pool as they are a slip/fall hazard if feet are damp.
Great Vacation House
Rating:
1
5
5
This house is really nice. It's a short walk to the beach, but with the new pool, you may not want to leave! It was our first trip to Jekyll Island. We would definitely come back.
Marvelous Mermaid
Rating:
1
4
5
Austin Mermaid was our favorite rental home of all, including stays on Hilton Head and two homes in the Gulf. The decor was cute, the house well-stocked, the location good, and the new pool was great!
Our only issue, and it had nothing to do with the house but should really be addressed by the rental company: on two different occasions service workers had to come to the home. One worker came for a scheduled check for the air conditioning and two came to check the pump for the pool. None were wearing masks! I can somewhat understand the pool workers not being masked, and we were able to distance communicate, but the air conditioning worker came in the home and understandably touched the thermostat and other surfaces. We disinfected after he left, but there was nothing we could do about him being unmasked save not to let him in.
We realize many people do not take recommended Covid guidelines seriously, but we do, especially considering our ages and underlying conditions. We'd love to be able to completely relax on vacation and believe as a professional courtesy service workers could wear masks for fifteen or twenty minutes! Might influence our decision to return.
Manager Response: 06/18/2020
Response from Jekyll Island Property Sales & Management, INC.
Thank you for your kind words, the owners of Austin Mermaid are most interested in assuring that their guests have everything they could possibly want in a luxury accommodation. We understand you to say that the house is worthy of 5 stars but interaction with the servicemen caused the reduction to 4 stars. We are very sorry for that portion of your vacation experience and have been told by their superiors that these were isolated incidents and will not be repeated as long as restrictions remain in place. For future stays, please keep in mind that any routine maintenance can always be rescheduled to a more convenient time. Thank you again, we look forward to your return to Jekyll Island and the beautiful Austin Mermaid. - Jekyll Realty –
Another Great Jekyll Vacation!
Rating:
1
5
5
Had a wonderful week with my family at the Austin Mermaid! They have everything you need for the beach except bikes, kayaks and fishing poles! The new salt water pool is great! Driftwood beach and the Soccer park are our favorite beach entrances. Driftwood Bistro is our favorite restaurant. The Austin Mermaid has updated appliances and anything you need for cooking. The house was very clean and I would definitely recommend this rental!
Winter Getaway and Enjoyment
Rating:
1
5
5
The owners and Jekyll Realty went out of their way to offer a very clean and a very comfortable home for our 4-month stay.
A Great Month at Austin Mermaid
Rating:
1
5
5
Austin Mermaid is a beautiful, clean home. We have rented several houses on Jekyll Island over the past 10 years and this one is by far the best.
Great spot with one caveat
Rating:
1
4
5
First off, Jekyll Reality has been terrific in all respects. Austin Mermaid was ideal in location, amenities and comforts.Spacious, detailed,bright and airy. Many small things stood out as the owners prepared one for a thoughtful stay.One detail left off their thorough list however,was frustrating. An ultra-basic cable package that allowed only bare bones selections. There was a 2 temperature wine cooler but no Monday Night Football. Every light switch is labeled, there is wonderful art everywhere but no TBS and the National League Championship. People do watch TV and their Roku was an indication they do too. Unfortunately,to stream the above or other options the cable provider must include them in their package which Austin Mermaid didn't. Only drawback for a wonderful stay. Note: upgrade your TV service to make it perfect.
Manager Response: 11/15/2019
Response from Jekyll Island Property Sales & Management, INC.
Thank you for your feedback. We are glad you enjoyed your stay at Austin Mermaid. The owners have upgraded their cable package as you suggested in hopes of making future stays at Austin Mermaid perfect.
Mermaid Review
Rating:
1
5
5
A positive time was had by all
Wonderful Vacation Again
Rating:
1
5
5
Weather was great. The house, Austin Mermaid, was a great house, too. Very nice house and furnishings, and lots of room. Very comfortable.
The only complaint that we have is the beds. They're horribly uncomfortable. Otherwise we would have given it 5 stars.
Manager Response: 12/07/2019
Response from Jekyll Island Property Sales & Management, INC.
We are glad that you enjoyed your stay at Austin Mermaid. Thank you for your feedback on the beds. The homeowner has updated beds and mattresses at Austin Mermaid in hopes of making it a 5 star experience for future guests.
What an amazing place
Rating:
1
5
5
Our family has been going through some difficult things and we planned this trip to Jekyll Island with the hopes that it would give us a time to restore our emotional and physical energy and create lasting memories. It was even better than we could have imagined! Not only are the island and beaches perfect and relaxing but the Austin Mermaid home was beautiful and we were so comfortable. we especially loved the screened in porch at night reading books and the fire pit making smores. We definitely plan on coming back here. We were told the master bedroom would be getting a king size bed this summer, and this will be a much needed addition.
Great beach escape
Rating:
1
5
5
We had a wonderful family vacay in this 3 bedroom, 2 bathroom bungalow near the beach. Jekyll is a stunningly beautiful island with nature preserves, bike trails, beaches, boat tours to see birds and dolphins and even some great little restaurants when we got tired of cooking!
Great Place toStay on Quiet Peaceful Street
Rating:
1
5
5
This home is located on a side street a few houses removed from the ocean. There is a walk of about 4 blocks to access a beach. The house has an attractive fenced back yard. A small, unheated, Jekyll room overlooks the yard as well as a patio. The kitchen and living room are spacious and there are 3 small bedrooms and 2 baths clustered together on one side of the house.
The house was very clean and Jekyll Realty is always a pleasure to deal with when renting on the island.
The Perfect Vacation
Rating:
1
5
5
Beautiful, well maintained house. Hope we can rent it again
Nicely redone and spacious
Rating:
1
5
5
We had a great experience at Austin Mermaid. We have been renting houses at Jekyll for a number of years and this was among the best! The house is nicely remodeled and had plenty of room for our party of 6, including young kids. As with most everything on this area of the island, there isn't much beach left since the hurricane, but the pool pass gives you easy access to the nice wide beaches down the island. Would definitely recommend and we will definitely be back!
Fantastic Vacation at Austin Mermaid
Rating:
1
5
5
This was our first time to rent a house on Jekyll. We've always held back, because of the age of the houses. It's so nice to see that some of them are being completely renovated, and Austin Mermaid is included in that. The pictures of this house look great on the website, and it did not disappoint in person! The house is located on a quiet street, and it's nicely decorated and creates a calming atmosphere. The decor even includes some original artwork. The rooms seem bigger in person, and it feels like you're in a new house. There are several different sitting areas, so the whole family can spread out...living room, family room/den, sunroom. The kitchen is spacious and was wonderful to use during our stay. We enjoyed many meals in the dining area. The sunroom and patio were great to enjoy in the mornings and evenings and listen to all of the birds. Outside there is a fenced in backyard, gas grill, fire pit area, and outdoor shower. The garage was great for storing all of our beach gear. Inside there are many games for the family to choose from and even an "art box" when you're feeling creative! This house has so many good attributes that worked out really nicely for our family. We truly enjoyed our stay on Jekyll, and this house really contributed to that. We would absolutely love to stay here again!
Your request has been sent. We look forward to meeting all your vacation needs!
| | |
| --- | --- |
| | 38 Reviews |
| Sleeps | 8 |
| Bedrooms | 3 |
| Bathrooms | 2 |
| Property type | House |
Jekyll Island Property Sales & Management, INC.
21 Main Street, Suite 107
Jekyll Island, Georgia 31527
ph: (912) 635-3301
90/75°F
82/73°F
82/75°F
84/77°F
86/75°F